Canadians lead after day 1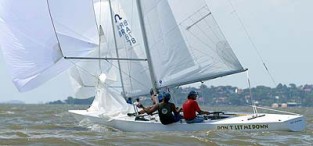 Skippers from three continents (North America, South America and Central America) competed in the first day's racing at the 2004 Soling Masters Trophy on Lake Michigan yesterday in 10-12kts.
Bill Abbott, his wife Joanne and Paul Davis (Sarnia, CAN), with a second in the first race and a superb first in the second race lead the championship over Stu Walker, Doug Loup and Andrew Dizer (Annapolis), who finished third and second with five points, just one ahead of Joe Hoeksema, his wife Rose and Matias Collins (Chicago) who finished first and fifth with six points.
Jim Medley, Mark Hulbert from Seattle were fast, finishing fourth in both races for a total of eight points, just one better than the local team from Wilmette of Jorgen Johnsson, his son Martin and David Snodgrass with nine points posting finishes of third and sixth.
The world championship continues on the today with two more races scheduled and also a bad forecast. A total of seven races are scheduled with the worst result to be discarded.
Results (after 2 races)
1 CAN 1 Bill and Joanne Abbott, Paul Davis
2 USA 842 Stuart Walker, Doug Loup, Andrew Dize
3 USA 807 Joe Hoeksema, Matias Collins, Rose Hoeksema
4 USA 840 James Medley, Marc Hulbert
5 USA 845 Jorgen and Martin Johnsson, David Snodgrass