What's in the November issue
On sale: Thu, 13 Oct 2011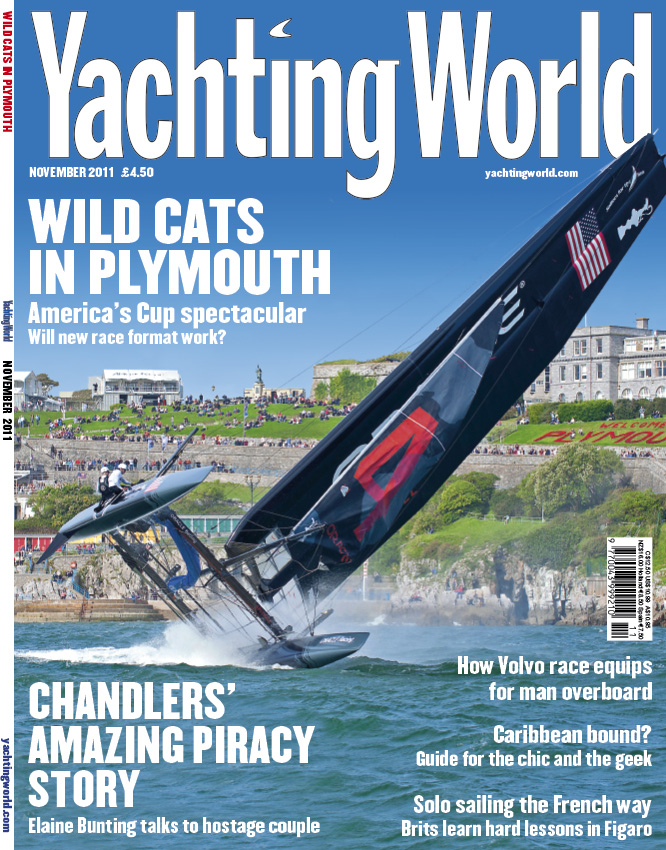 From the Editor Yes, the AC45s were exciting - but it's not the America's Cup

On the wind Welcome to the Hoe down! Plymouth delivered a spectacular America's Cup World Series event, with close racing and capsizes enthralling spectators

Plus: British Olympic team; pirates release Danish crew; and five favourites from the Southampton Show

Letters Rambler 100 capsize - are PLBs the answer?

Laven's Olympics Kate Laven asks: did the Olympic test event pass the test?

Leading Edge How to make the invisible visible with your smartphone

Robin Knox-Johnston Don't be afraid of the water; jump in and clear the prop

The Walrus The 'real' rules of sailing: put the kettle on and don't hog the companionway

Gear Keep track with Yellowbrick; link up your electronic systems; jazz up your lifejacket

Yachts 57 is the new 40. Two tasty 57-footers, from Discovery and Gunfleet

On test: Arcona 410 When this traditional Swedish yard switches to twin helms, it?s a watershed moment. Arcona embrace modern design trends with their new 40-footer

A cracking good Volvo When the Volvo Ocean Race starts on 5 November, it could be fireworks. Six of the closest designs yet should mean some great racing

When the going gets tough ... the tough take a good look at their safety gear.

We examine Volvo rules for safety equipment, from stanchions to man overboard recovery

Olympic profile Matching youth with experience has paid dividends in the Women?s

We profile British pair Hannah Mills and Saskia Clark

Hard lessons in the 'fighting spirit'. Four British sailors get a brutal lesson in the 'mental game' that is La Solitaire du Figaro, where French solo stars are born

Laidback Caribbean Popular bloggers, Taru and Alex of World Tour Stories, choose their favourite Caribbean haunts and illustrate them with their delicious pictures

Make, do and mend Caribbean services guide by pilot author Chris Doyle

Cruising: A year in captivity Elaine Bunting asks Paul and Rachel Chandler about their kidnap by Somalian pirates in 2009 and their moving new book Hostage

Water on demand How to get the best out of your watermaker

Gales and Guinness A place of rugged scenery, birds and dolphins and a warm welcome in every pub, the west coast of Ireland is an adventure, says Leon Schultz

Great Seamanship Crazy seas off Cape Horn - Bill Robinson was living a life to envy in Tahiiti, but the sea was calling and a leisurely cruise in the Pacific seemed a good idea . . .

SuperSail Oyster's new 100-footer is built to super-spec in Turkey and her build quality is first class. But what is she like to sail? Mike Owen finds out

Yachts for sale

Classified ads

One Amazing Day Designer Juan Kouyoumdjian was waiting in hope and excitement for one of his designs to win the Volvo Ocean Race. But then a man was lost overboard . . .